Eco Schools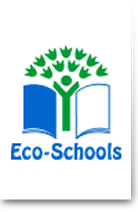 "Go Eco, Go Green
Work together to get the world clean"
Bidh Eco, Bidh Uaine
Cùm ar Saoghal Glan
Our Committees work hard to encourage all pupils and staff to be eco-friendly. We have been working really hard and helped the school achieve three green flags!
We have a No litter policy. If you find a piece of litter you pick it up!
At the beginning of the school year we carry out an Environmental Review and then set our action plans which can be found on our Committee notice board.
As part of our work, we also discuss how we can raise awareness of fairtrade products both in school and in the local community.
Find out more about Fairtrade by clicking here
Click here to find out more about the Eco Schools Programme
Balivanich Primary School Litter policy
Our pupils have the right to learn in a clean and healthy litter free environment.
Our charter
We don't drop litter.

We use the litter bins.

We all share responsibility for litter.

We tidy our classroom to prepare for the next day.

We make sure LITTER is on our Eco Schools' Action plan.